Welcome To Keyul Enterprise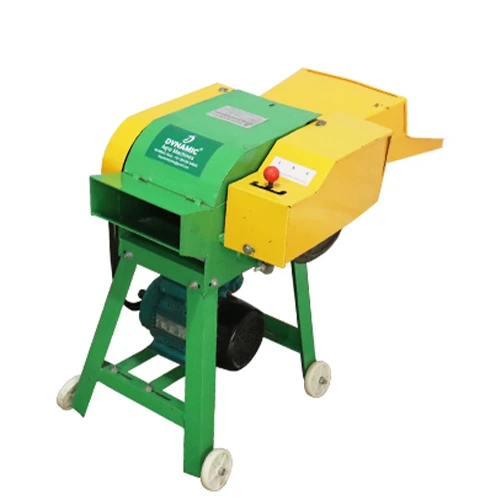 Agriculture machinery commonly referred to as "Agricultural tech" is an efficient agricultural tool that ramps up agricultural production. There are many fascinating benefits of agriculture machinery from improving contemporary techniques to boosting agricultural production to maximising the production capacity to increasing farmers' income.
Choosing the right agriculture machinery can undoubtedly take your agricultural production to another level. If you are looking for high-performance and quality agriculture machinery for your diverse applications in the agriculture industry, Keyul Enterprise is the most eminent Agriculture Machinery Manufacturer In India (Mumbai, Maharashtra-based company).
Whether it be a cattle feed pellet machine, wood chipper, cow dung dewatering machine or feed grinder, we have you covered. We are also renowned as the pellet machine and wood pelleting machine manufacturer and supplier well-known for our top-selling pellet machine range. To discover more about us, get in touch with one of our manufacturing specialists.
Modern-day agricultural machinery maximises your overall productivity. However, there are many factors you should consider before choosing the right agriculture machinery for your diverse needs and applications. This is what we are going to consider here. In this blog, we are going to consider a few factors before choosing the right agriculture machinery for your industrial applications. So without wasting a fraction of a second, let's dive in.
Top Things To Consider Before Choosing Agriculture Machinery
Before choosing agriculture machinery, the first and foremost thing to consider is your needs. Every farmer has unique applications and uses of agriculture machinery. This is why it is essential to understand your needs. Below are a few factors to consider to determine your diverse requirements for agriculture machinery:-
Determine the type of the Soil structure

Consider Landsize

Choose the right equipment for land preparation
Determining these factors will help you choose the best-fit agriculture machinery for your application. You can ask your agriculture machinery provider to provide you with an assistant to choose an efficient and high-performance machinery well-suited to your needs.
Whether you are in need of pellet making machine, cattle feed pellet machine or animal feed pellet machine, quality is the most essential factor every machinery should have in common. Always invest in the quality of the machinery rather than opting for high-priced agriculture machinery.
Always look for safety features

Consult with the agriculture machinery provider

Ask your provider about the quality and durability of the machinery

Opt For Brand
Always choose a brand for your industrial agriculture machinery. A brand has an envious reputation and they offer premium quality machinery engineered to safety guidelines. Not just, choosing a reputed agriculture machinery often offers superior customer support, aftersales services and maintenance support.
Maintenance Or Service Centre Support
There are plenty of agriculture machinery manufacturers such as Keyul Enterprise offering maintenance support and warranty. Always look out for the brand assuring the availability of the service centre or maintenance support in your area. From pellet making machine manufacturers to animal feed machinery providers, the right agriculture machinery provider will always provide their clients with maintenance support or service centres.
Reputation Of Machinery Provider
Always look for an agriculture machinery brand with a reputation for engineering durable and reliable machinery and that offers comprehensive customer support and warranty. You can check the online reputation of the agriculture machinery manufacturer or supplier through online reviews, ratings, customer testimonials and feedback.
Checking the online reputation of the agriculture machinery will help you understand the quality of equipment you have been offered. It also helps you understand the types of services they offer.
Where To Buy Quality Agriculture Machinery?
There are plenty of trusted sources for purchasing quality agriculture machinery for your unique applications and needs in the agriculture industry. You can buy quality agriculture machinery from authorised manufacturers, dealers, suppliers, government surplus auctions, farmer and agriculture equipment events and expos, and so on.
All these are the most trusted sources of agriculture machinery, whereas, purchasing the agriculture machinery right from the manufacturer and supplier will benefit you in many ways in comparison of prices, quality, customer support, aftersale services and many more. At Keyul Enterprise, we are renowned as one of the most eminent Agriculture machinery manufacturers, suppliers and exporters based in India.
We specialise in the design and engineering of a comprehensive range of agriculture machinery from pellet making machines to cattle feed pallet machines, to Feed Pellets machines. With extensive years of expertise in agriculture machinery manufacturing, we have been helping our clients in the agricultural industry with their diverse applications and specified requirements.
To discover more about our agriculture machinery range and its prices, contact us by requesting us a query or calling us directly. We have well-versed and highly trained agriculture machinery manufacturing specialists who are looking forward to assisting you.
Final Thoughts!
In a nutshell, agriculture machinery has many benefits when used in the diverse applications of agricultural production, as mentioned above. However, there are many essential factors to consider while choosing the right machinery for the agriculture industry. From quality checks to looking out the online reputation to determining your needs, always consider these recommended factors before purchasing agriculture machinery. An ideal agriculture machinery provider will always meet your unique agriculture machinery needs while meeting your budget.